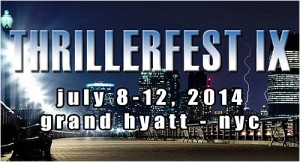 Calling all suspense/thriller writers…
THIS IS THE EVENT OF THE YEAR FOR THOSE WHO WRITE OR WANNA BE WRITERS OF THIS GENRE!
When: July 8 – 12, 2014
Where: Grand Hyatt (New York City, NY)
Who: You name it! Anne Rice, Scott Turow, Brenda Novak, John Sandford, Heather Graham, Steve Berry, Lee Child, David Baldacci, Michael Connelly…and many others!
What: Events include ThrillerFest, PitchFest,Master CraftFest, CraftFest (two days of writing classes taught by bestselling authors), and FanFest.
To register or to get more information, visit www.thrillerfest.com