This is our newest title…released just in time for fall and Halloween!
Discover the best places to see and maybe sleep with a ghost… 
Stanley Hotel…find out what happened to Author Stephen King during his stay that inspired him to write THE SHINING…and why the hotel has a resident psychic.
Battery Carriage House Inn…is haunted by a GENTLEMAN GHOST (who likes to get in bed with female guests) and a TORSO GHOST (a scary-looking ghost in a Civil War uniform who appears at the foot of the bed).
St. James Hotel…learn why no one is allowed in Room 18 , including why it had to be boarded up and padlocked.
Bullock Hotel…where the spirit of a former owner still reprimands employees who aren't doing their jobs to his satisfaction.
Chateau Marmont…is a favorite haunt for celebrities–both alive and dead.
…and much more!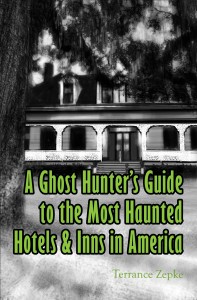 In addition to detailing paranormal activity, this book discusses the intriguing history of each place and includes lots of photos and visitor information.
"One of the things I really like about Terrance's book is that it is such an easy read. The tidbits of history keep you turning the pages, and you also learn about the paranormal investigators, who have used a variety of paranormal investigation tools…A Ghost Hunter's Guide To THE Most Haunted Places in America is one of those books that keeps your imagination wondering what really happened." -Josh Schubert, USA Travel Magazine
From a lunatic asylum to a brewery, ghostly presences inhabit all these places. Complete directions and site information is provided. Even if you don't get a chance to visit each of these locations, the stories and the black-and-white photos are fascinating. -Marcella Gauthier, Escapees Magazine
"…a journalist by training, she [Zepke] takes you on a tour of the Trans-Allegheny Lunatic Asylum in West Virginia, the Birdcage Theatre in Arizona, and the Colonial Park Cemetery in Georgia, among a dozen other places…" -Alan Caruba, www.Bookviews.com (National Book Critics Circle)
"…A Ghost Hunter's Guide To The Most Haunted Places in America" explores the story behind these ghost story settings all throughout the country, from theatres, old factories, asylums, homes prisons, and much more. A Ghost Hunter's Guide To The Most Haunted Places in America is a must for lovers of the paranormal in America. Highly recommended. -James A. Cox, Midwest Book Review
"…while the words "adventure travel" may conjure up images of the remote or the foreign, a new book suggests that some wild rides are much closer to home. Zepke documents the supernatural in A Ghost Hunter's Guide to the Most Haunted Houses in America. As she points out, "Who else but an adventurous and brave soul would dare to spend time in a haunted dwelling—and pay good money to do so?" –Sarah Robbins, Publishers Weekly
"You don't have to believe in ghosts to realize that certain places in our national history are haunted with legends and spirits of long ago. Terrance Zepke grew up in South Carolina knowing the tales of colonial pirates, Civil War legends, the impact of lowcountry voodoo, and the famous residents of weathered cemeteries…places you probably best not visit at night, She's written books such as Coastal South Carolina: Welcome to the Lowcountry, Best Ghost Tales of South Carolina, Pirates of the Carolinas, and her latest book, A Ghost Hunter's Guide to the Most Haunted Places in America, investigates saloons and cemeteries, former sanitariums, and penitentiaries across America where rumors of strange phenomenon seem to have some bearing…Terrance is one of the most schooled experts on paranormal in the United States." –Rick Steves, Travel with Rick Steves
Paperback: 170 pages (also available in digital format)
Publisher: Safari Publishing (April 2, 2014)
Language: English
ISBN-10: 0985539887
ISBN-13: 978-0-9855398-8-7
Product Dimensions: 0.4 x 6 x 9 inches
Shipping Weight: 11.4 ounces
Availability: In stock; Available through most booksellers; Standard distribution channels (www.ipgbook.com)