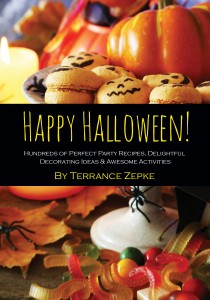 This book was written for those who love Halloween but don't have the time or patience to make complicated recipes and elaborate DIY Halloween decorations–but it will look like you did!
Learn how to quickly create coffin coolers, creepy cemeteries, Harry Potter cauldron cupcakes, zombie punch, kookie cookies, a monster station, and much more! Plus, there are dozens of photos, party games for all ages, and a party planning timeline. This reference includes everything you need to have a spooktacular Halloween!
Useful tips and fun Halloween trivia are sprinkled throughout the book and a history of Halloween is included at the end.
For example, did you know that spraying a mixture of bleach and water on the inside of your pumpkin daily or coating the inside w/ petroleum jelly preserves the pumpkin by preventing mold and dehydration?
Expect each guest to consume about a dozen appetizers and desserts. For a dinner party the total would be about half that amount. Guests typically consume two drinks during the first hour of the party and average one for every hour after that.
Party invitations should be sent four weeks ahead of the party date.
Award-winning writer/photographer Terrance Zepke is the author of more than two dozen ghost books, including A Ghost Hunter's Guide to the Most Haunted Places in America and Lowcountry Voodoo: Tales, Spells & Boo Hags. Her favorite holiday is Halloween and in this fun reference she shares how she manages to throw a great bash during her busiest month of the year.
Read what Readers and Reviewers are saying…
The title says it all Happy Halloween!: Hundreds of Perfect Recipes, Delightful Decorating Ideas & Awesome Activities.  I am pleased with this eBook edition from Kindle. It is at a very affordable price (time of this post was) at $2.99. This eBook is definitely for the Halloween enthusiast who are on budgets, want to plan & host their own events or for anybody who simply wants an All-In-One book for Halloween. This is definitely it. I can already see this All-In-One book being very helpful to me for this years upcoming (and years thereafter) Halloween. I've already purchased this for my "Cloud eReader" and I'm excited it will be readily handy at anytime. I feel I will more than likely begin referencing this book even before Halloween. Simple because I'd like to get a jump start on ideas and creating my "To Do List" ahead of time. Even though this eBook is geared toward Halloween I can see it being helpful (at least for me) for other special occasions as well. These principle idea can be quickly adaptable for other occasion. The simplicity in the way the author makes suggestions and outlines her plans are rather simple and easy to follow. Of course each persons individual needs can be adapt accordingly for the event they are planning. They can add or subtract time management to fit their event. For me I have a baby shower coming up and I see where some of the instruction and suggestions will come in handy. I like the fact it is clear and concise which is what drew me to my purchase. Each sections titles are specific to each topic needed to have an awesome event party.
-SquiddoHQ (www.squiddo.comm)