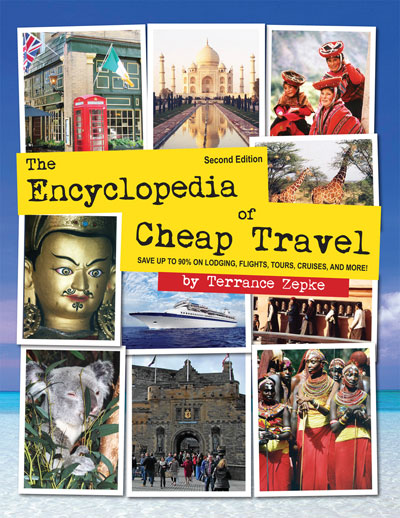 Product Details
Paperback: 192 pages (also available in digital format)
Publisher: [Imprint] Lookout Publishing (9/7/11)
Language: English
ISBN-10: 0615514723
ISBN-13: 978-0615514727
Product Dimensions: 0.4 x 8.4 x 10.8 inches
Shipping Weight: 1.6 pounds
Availability: In stock; standard distribution channels
Find out how to pay half price for any hotel room, get cabin upgrades and other perks on cruises, stay in a luxurious villa for less than most moderate hotel rooms cost, discover unique travel experiences, and learn how to always get the best deals on airfares. Find out how to use consolidators, aggregators, social media, air and rail passes, and loyalty programs to save as much as 90 percent off normal prices. Plus, discover how anyone can travel FREE or get PAID to travel! Plus, inside this book, you'll find valuable tips, such as…
TIP #1: Don't rely on popular travel sites.
TIP #2: Why you need a travel agent to book a cruise.
TIP #3: Discover a secret tool that tells you when airfares will go up or down.
TIP #4: Find out how to use social media to get cheap fares.
TIP #5: Never pay single supplements.
"Wealthy travelers have no problem; they can just call up a travel agency to work out trip details. The rest of the traveling public is usually on the lookout for fare bargains and other ways to make the dollar literally go farther. The Encyclopedia of Cheap Travel lists hundreds of resources for cheap travel, including consolidators, agencies, and other outfits that specialize in bargain travel and accommodations." -ASSOCIATED PRESS
"The Encyclopedia of Cheap Travel is aimed at bargain hounds who find sport in stretching any currency to the max; upwardly mobile vacationers who wish to travel first-class without having to take out a loan…The book is as handy as a phone book, with long lists of names and Websites." -THE WASHINGTON POST
"…I am overwhelmed with the variety of information. Obviously, if you could have one guide on your bookshelf, this should be it. The Encyclopedia of Cheap Travel is an indispensable reference for any type of traveler. I recommend it highly for anyone seeking the most mileage for his or her travel dollar." -Larry Patton, WLXI-TV PUBLIC REPORT Host
"…Zepke is tireless in compiling info about the multi-faceted travel biz…" -SAN FRANCISCO CHRONICLE
"Words to save money by…In addition to being a good source for agencies and Websites offering low-cost trips or tickets, the book has plenty of tips…" -THE BOSTON GLOBE
"The Encyclopedia of Cheap Travel offers useful overviews of traveling cheaply with plenty of tips and recommendations…" -THE INTERNET PUBLIC LIBRARY
"Here's a book that will make you a travel expert. For almost any trip, this guide will help you increase the odds of traveling inexpensively, as well as happily and safely…Look in this book for an inexpensive cruise, to get dollars off your hotel bill, fly on the cheap, go on an African safari for less and pay less for a river barge cruise." -DETROIT FREE PRESS
"The Encyclopedia of Cheap Travel by travel industry specialist and expert Terrance Zepke is a refreshingly practical vacationer's reference resource and guide. From getting the best deals on tours, airline tickets, cruises, and accommodations to 50 ways to travel free or even for payment, The Encyclopedia of Cheap Travel is a wealth of useful, money-saving lore for the tourist on a budget. Highly recommended to thrift-minded travelers everywhere, The Encyclopedia of Cheap Travel will also prove itself to be an invaluable resource for business travelers on increasingly restrictive corporate resources…" -MIDWEST BOOK REVIEW
"…this book tells the budget-conscious traveler how to try out all types of travel…Includes resource listings, an appendix, and useful tips in highlighted boxes throughout the text. Bon voyage! -NATIONAL MOTORIST AND NATIONAL AUTOMOBILE CLUB
Featured on CNN, Sound Money, Weddings and Honeymoons, Redbook, BoomerCafe.com, Kidfriendlytravel.com, SELF, Secure Retirement Radio Show, ConsumerTraveler.com, Boomthis.com, Bookpage, GenXFinance.com, 2BoomerBabesRadio.com, BudgetSmartGirl.com, TravelCompanions.com, AroundtheWorldRadio.com, National Public Radio and more!